Clothes dryers encourage evaporation through heat, tumbling and efficient air exchanging. In the past, the dryer connection hose usually laid on the floor behind the dryer with two tight restricting bends that were deformed a bit from the dryer crushing them against the wall.
That along with the hard 90 degree elbow in the wall contributes to air movement friction and efficiency loss in exhausting the hot damp air. Likewise, the clothes took longer to dry and use more energy to do it.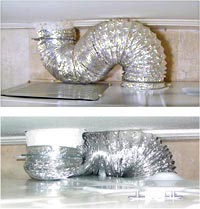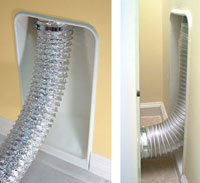 Increase Efficiency by Removing Bends & Kinks
The chart above shows the weight loss of two identical dryer loads but with two configurations of exhaust hose. One exhaust hose was aluminum flex and was relatively straight.
The other exhaust hose was the wire embedded foil type and was obstructed to assimilate a zig-zag pattern like the picture to the left.
You'll note that the "obstructed" load took about 9 minutes or 11% longer in running time to attain the same finished load weight as the "un-obstructed" load.
It makes sense! The Dryerbox, pays for itself in a number of different ways
Homeowners get an additional square foot of living area, a safer home and clothes that dry faster, requiring less tumbling and less electric or gas.
Builders have less call-backs, a laundry room that appears larger and a new selling point.
Contractors gain a 5 foot credit of exhaust pipe and take advantage of a simpler, cleaner install.
For the architect, The Dryerbox

®

is GreenSpec listed and contributes two U.S. Green Building Council (USGBC) LEED credits to the building project. One for optimizing energy performance, and one for innovative design features.